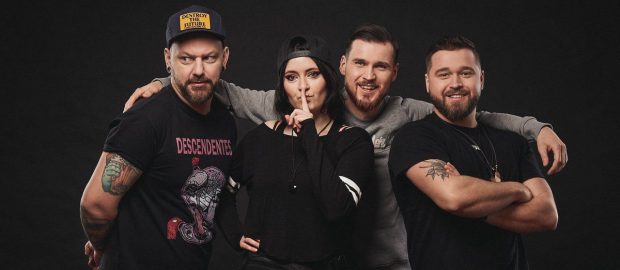 Despite their foundation in the conservative and lethargically prefabricated environment of Eastern Europe, they have become an extremely competent and hard-working spreader of melodic punk rock, which source we would find rather on the other side of the ocean, on the California coast, in its suburbs, their drained pools on private properties, skate parks, or in the yards and playgrounds of local high schools.
Singer Karolína is without a doubt one of the most talented voices on the global skatepunk scene. We talked about the long-current topic of abortion in their home country, how were they affected artistically by their collaboration with Ishay Berger from Useless ID in the studio, and that the agony of everyday life in Poland can also be an intense inspiration for making music such as CF98 do.
How are you now and what´s coming to your mind when thinking about what´s the first in your plans after covid and what are you up to now with the band at this moment?
Hi everyone! Thanks for asking, we are doing pretty good, well, trying to. We played a couple of shows last summer after we released Dead Inside. We of course thought that things will get better in 2021, but It's not going to happen probably. We decided to use that time the best we can – and to write an album. First long album after Story Makers in 2017. We never quit playing rehearsals and meetings, we need this band and this friendship, that's why we are on the right track I suppose. When covid is over we just want to play shows, that's all.
Is the current situation a carrier for new inspiration for your music in the future? Do you think, will these times affect you artistically in any way?
Living in Poland is already painful and has a huge influence on our songs haha. We've been writing songs about it, we've been writing about uncomfortable stuff, politics, and people's behaviors a long time before covid. Of course, we will have a couple of songs about the current times and what our government does on our new album. We've been singing together about being dead inside, this time we will be singing together about how we miss people, gigs, and how the world changed. I just hope that some of those great moments and feelings will be back.
How´s the Polish government dealing with the ongoing covid crisis? How are the artists and venues going these days? Is there any help available?
Covid will affect venues of all sizes, festivals promoters, abroad tours, especially small ones. This is what bothers and worries me the most. Will we, bands have places to come back to? In Poland, places like this are just being closed, I don't really know how many of them will be ever reopened.
Talking about the Polish government, man, this topic makes me sad instantly. The speed of vaccination is really slow, public health care is falling apart, they had one year and did almost nothing. Except for some antiabortion actions and millions of zlotys spent on pro-life or anti-divorce propaganda. It makes me sick.
You´re one of the most markable bands from eastern Europe that is oriented on US punk rock and plays it well. Once we spoke in my place in Bratislava with Karolina and she said you almost always had an almost empty venue there, but a few miles ride to the west were, things were always better in this matter. Why do you think that western Europe has this genre's more solid base than in the east? Can it be the indifference of approach to music and culture in the east in general? Or the political past?
Oh man, it's really hard to tell the reasons exactly. We just discovered years ago that this skatepunk, pop-punk kind of thing we play is not so trusted and needed here. There is a melody, the songs are usually uplifting, there is a girl who doesn't scream but sings, maybe it's just too sweet. I think even some popular bands like Millencolin, NOFX, or Lagwagon were never a thing in Poland. Maybe our society doesn't need it or it simply was never promoted. Sad and true story but of course we have lots of friends and supporters here. I simply think that melodic punk rock never became a big genre here.
You spent some time with Ishay Berger in the studio. How was it to work with him? Did he bring a certain new approach to work on music within CF98? Did his presence leave any significant mark on you as a band? It´s hearable that the sound of your Dead Inside record is thicker and certainly much faster and aggressive.
Ishay is the best guy, brother, and musician. It was great to have finally someone who will show us some other directions we could go. The directions we would never probably search on our own but he challenged us really hard. And still does as we cooperate for the next album as well. Dead Inside is faster and thicker? It's interesting to hear that as some people consider it lighter than our previous Eps and albums! The most important thing that developed for me is putting my lyrics into the songs. I've always tried to put as many words and sentences as possible, it ruined them and made them hard to sing live – also for others. Today I'm more into simple solutions and trying to express myself in fewer words. It's fuckin hard for me to make things simple – can you believe it? 😉
The theme of interruptions in Poland is the biggest issue in your country nowadays and the protests were massive. How are things progressing there in this matter? Do you think that Is there any chance for a fresh new air in politics brought by some new party or movement that could change the laws that have a significant impact on the life of Polish women?
If we didn't put the government down so far, the only chance to do it will be within the next elections. Everyone was on the streets, a lot of things happened, PIS politicians do not sleep so well as they used to, but they still rule here. Poland has one of the cruelest abortion laws in Europe now, and it might not change within years.
What´s your most favorite place to play in and what was the most mouth opening moment in the life of CF98? And what motivates you as a band the most in the end?
I said it many times but 2019 in general was quite the best year for CF98. We've been to Japan, UK, played Punk Rock Holiday, Sbäm fest, Mighty Sounds, and supported many cool bands in Poland and abroad. 2019 was great, that's why it hurt even more to have UK and US tour, Manchester Punk Fest, KNRD fest, and gigs with Belvedere canceled in 2020. In spite of this, we are still here, not going anywhere and we believe in better times for all of us to come.